Entertainment
Here's how Shah Rukh Khan expressed his gratitude and love to Chennai people and the team of Jawan | Hindi Movie News
Learn from the Tamil film industry, I am assuming all of them who have spoken in Tamil in front of you have only praised me so far because I could not understand except for Vijay Sethupathi, I think everybody praised me, he was talking about some girls, and Vijaysir let me tell you, you can take revenge, but you can't take my girls, that belongs to me and Jaffar from now onwards..love you Vijay Sir, so I spoke withAtlee sir and I also saw Aalif who organized this. Thank you man, love you! to everyone involved. I love you,. God bless you. It's great to see all of you here. I told Aalif if he could arrange for me to meet with the Atlee sir after making the wonderful film Raja Rani.. and we got together , Priya came over, they're such a beautiful couple. They also had their own production during the three and a half years we were working on Jawan. They welcomed a lovely baby named Neel. Congratulations to them. Inshallah, Jawan will do well on 7th September there's so much hardwork and love involved in here.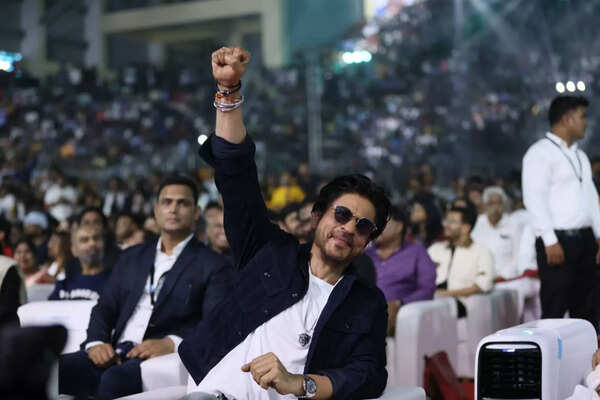 Their is this little baby, who I think of like my own son now, thats Anirudh, so, he was telling me that, he will miss my calls and I hope that he do not graduate so much in the Hindi film industry and become so big, inshallah you should, that he doesn't take my calls, I will miss you my son.
I remember Atlee sir telling me that, there is this young kid, I have seen him like a baby 'Why this Kolaveri Kolaveri di', and from that time I have been wanting to meet him and Atlee sir told me there this young kid can we do one song with him in the Tamil version and the Hindi version and I said no we have to do all the songs with only Annirudh and the amount of hard work he has put in, Thank you, Annirudh, I love you so much. And a big gratitude and love to your parents to both father and mother. Thank you sir and ma'am.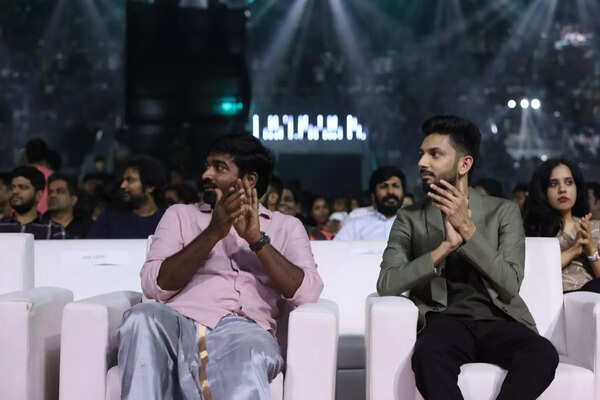 Priya, to you I will thank later, will produce another child. I mean, you and Atlee, not me. Now Atlee and we can co produce also there's no problem. We are friends now.
Yogi Babu. Thank you so much. I remember him from Chennai. He was so shy and so quiet. And I remember I came to market the film here. And everybody was screaming and shouting in the theater. For one brief moment, I thought it's for me. And then I realized, no, they were all pushing me aside and they just wanted to say Yogi Babu,so thank you so much for being part of Jawan, you are awsome sir.
Our editor who's been working round the clock. He says I will only have a haircut only After he finishes editing the film. He's not had a haircut yet. I didn't know that you have to edit the many speeches now. It's not the film that you need to edit. Your speeches have to be edited. But I'm saying this all with love. I do not need to judge these great technicians who will be part of the film.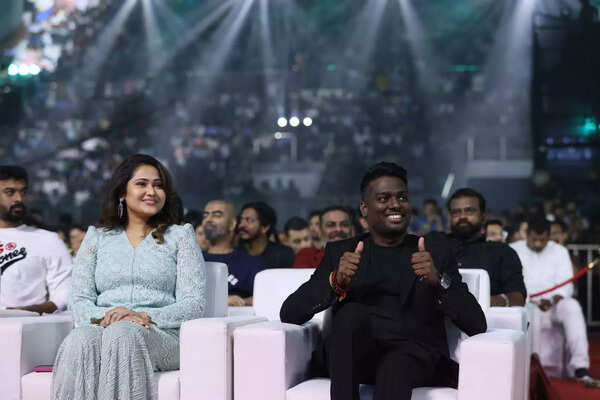 I see Vivek who has written the lyrics thank you for standing by us doing the whole film together. I'm forgetful with names. I call everyone baby and beta. Sunil beta. For him copying in the films and doing such a different role in Jawan. I'm so happy to share screen space with you and learn from you. Thank you so much. And I have to take names of all my five girls and I'm not going to make a mistake and I need your help Bhavna because I don't speak Tamil. so if I have to praise Atlee in Tamil I have to say 'Morana mas, Morana mass', Atlee, thank you so much.
Then one of my friend is not here Vishnu. He's delivering the film. The cinematographer for the film. He's been such a wonderful human being. He's done such outstanding work in this film, and we all miss him as a team right here right now. So wherever he is, thank you Vishnu, and he's only in Morana mas. Vishnu.
Then of course Maturaj ji, thank you so much for participating in the film and speaking so highly of a VFX unit. We call him Gumby. Ramana Muthuraj, Thank you so much. And Ruben your name was Viru buru panna Reben.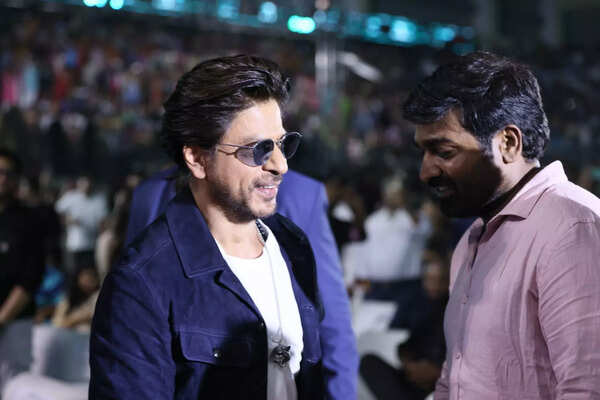 And I'll take a moment and tell you how much I love Vijay sir, I met him in Melbourne he's talked about I heard him talk keep talking Tamil. I'm assuming he was talking about that instance. And then one day we were here for Nayanthara ji's wedding, and I met him and we all decided to work together. I cannot tell you how much I've learned from you. I just want to tell everyone from the Tamil film industry who has worked in Jawan, that I have only come here to learn from you and take that learning and present in front of all the Tamilian audience here to tell you how much I've learned. And if you can appreciate the teachings of this great team of Jawan to me, people talk lovely things about me they're lovely videos I'm called global star and I'm a big star and all all that means nothing to me. To me. Everything means that I learn from great talent like we have in Jawan so I thank you all from the youngest one Annirudh to the eldest one, for allowing me to learn so much from the film.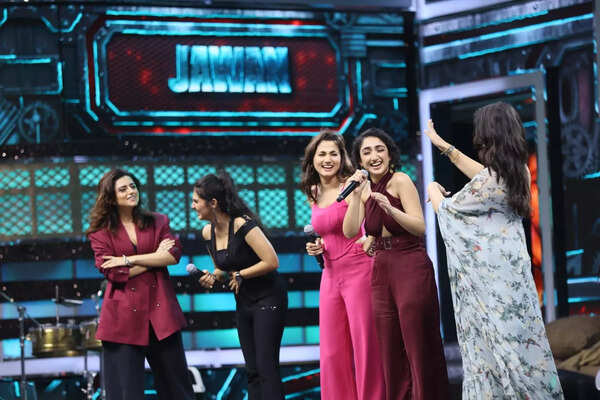 There are some people who are behind the scenes who are not here. I'd like to thank them. There's one young editor with Ruben darling. Please give him my love. He's been working so hard for the film.There is Shobi master, who made me dance like a mad man. I told him,I can't dance like Rajni sir. I cannot dance like Vijay Thalapathy, I can't even dance like Atlee. So please don't make me do this. But he forced me to you know, I have to tell you Bhavna, I was doing this that I had red marks for three days. Thank you Shobi naru, for making the song it made me look so cool in the red shirt. God bless you. For you the word is attam podal.
Nayanthara Ji she's not here, she wanted to come but due to onam festivities she couldn't but she gave all her love, she's sent her love to all. And I thank all my girls, Priyamani, Girija, Aaliyah, Sanjida, Ridhi. Love you all thank you for making this happen.

#Heres #Shah #Rukh #Khan #expressed #gratitude #love #Chennai #people #team #Jawan #Hindi #Movie #News