India
Govt diverting attention of people and then looting them: Rahul Gandhi in J&K | India News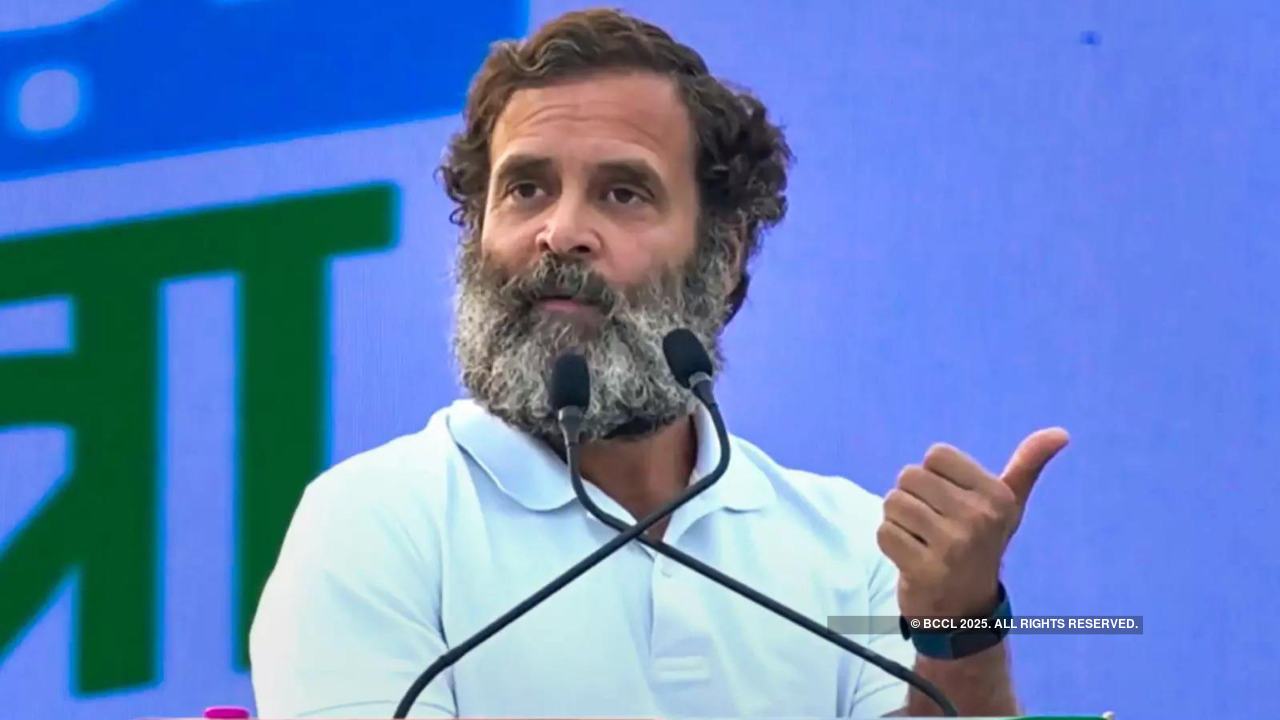 LAKHANPUR: Entering Jammu and Kashmir on the last leg of his Bharat Jodo Yatra, Congress leader Rahul Gandhi accused the Centre of indulging in mass pickpocketing by diverting the attention of people and then looting them.
Addressing a rally here, the former Congress president said he had walked from Kanyakumari to Kashmir and talked to thousands of people.
As dusk fell and temperatures dipped, hundreds of people walked alongside Gandhi. In a customary handover function, Punjab's Congress unit gave the party flag to a leader from the Jammu and Kashmir wing.
"The BJP and RSS have spread hatred. I earlier thought it ran deep but it does not and is mainly seen on television," Gandhi said in his first stop in Jammu and Kashmir, about 90 km from Jammu.
He listed hatred, violence, unemployment and price rise as the main issues confronting the country and blamed the media for not highlighting them.
Criticising the media for not focusing on the right issues, he said it uses topics such as Bollywood stars Aishwarya Rai and Akshay Kumar to divert the attention of people.
There was one more point about two India's in making – one for poor and one for the corporate world, he said.
Injecting a personal note, Gandhi said his ancestors belonged to this land and he felt he was returning home. "I am going back to my roots, I know the suffering of the people of Jammu and Kashmir and come to you with a bowed head," he said.
Gandhi said he had been walking about seven hours a day, covering 25 km each day, but nobody was tired as some people had predicted. "I later felt we are not feeling tired because people are pushing us forward."
"If someone falls, he is supported within seconds… nobody is asking anyone what is your religion," he said.
Gandhi started walking from Kanyakumari in September. The Bharat Jodo Yatra is scheduled to conclude in Srinagar on January 30. The distance yet to be covered is over 360 km.
Earlier welcoming him, National Conference chief Farooq Abdullah drew a parallel between the Shankaracharya and Rahul Gandhi. "Many years ago, Shankaracharya had undertaken a yatra from Kanyakumari to Kashmir. And today you are doing it," the MP said here.
He said that today's India is not that of Ram's Bharat or Gandhi's Hindustan because people are divided on religion. "If we are together, we will be able to overcome the hatred of the present day," he said.
Abdullah, who made his second appearance in the yatra, made an passionate wish saying "before I close my eyes, I want to see my secular Hindustan again where everyone is respected."
Amid chants of "Nafrat Chodo Bharat Jodo" (Leave hatred and unite India), Gandhi led Bharat Jodo Yatra yatra entered this Jammu and Kashmir via Pathankot-Punjab, marking the final phase of the 3500-km foot March by the Congress leader started from Kanyakumari in September.
Gandhi was welcomed into union territory by senior party leaders including Jairam Ramesh, Ashok Gehlot, Digvijay Singh, Abdullah, Shiv Sena leader Sanjay Raut, Dogra Swabhiman Sangathan Party and former minister Lal Singh, Awami National Conference leader Muzaffar Shah.
Lal Singh was not present at the podium as he came late and was seen standing in the crowd throughout the function. While thanking the leaders who turned up, the Congress did not mention the name of Lal Singh.
Fire crackers were burst as Gandhi accompanied by party workers and supporters crossed the Madhopur bridge into Jammu and Kashmir amid tight security cover.
The venue near the statue of Maharaja Gulab Singh was jam-packed with thousands of people turned up to witness the event.
"After covering 3200 km from Kanyakumari, it is a happy moment for us that the yatra has reached Jammu and Kashmir," Jammu and Kashmir Pradesh Congress committee president Vikar Rasool Wani said.

#Govt #diverting #attention #people #looting #Rahul #Gandhi #India #News