World
Gabon Army: Gabon army officers announce coup, put president under house arrest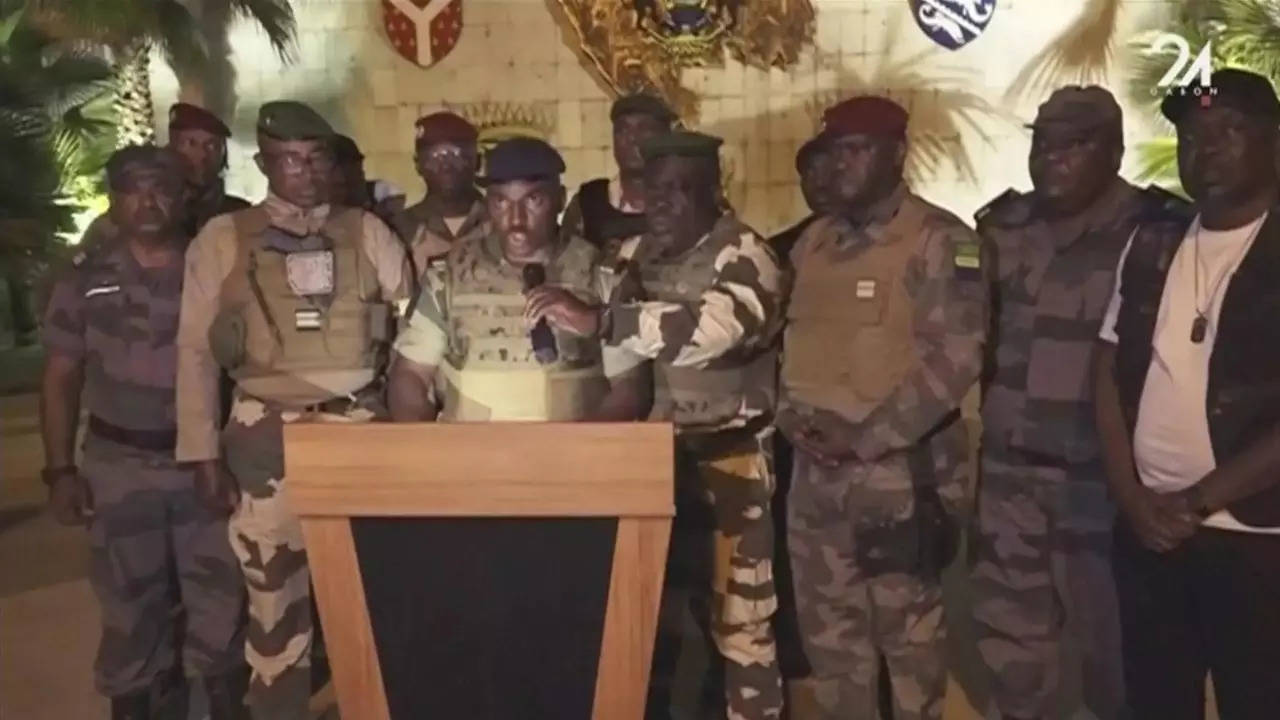 LIBREVILLE: Military officers in oil-producing Gabon said they had seized power on Wednesday and had put President Ali Bongo under house arrest, after the Central African state's election body announced that he had won a third term.
In an overnight television announcement, a dozen senior officers declared the election results were cancelled, borders were closed and state institutions were dissolved. They said they represented all Gabon's security and defence forces.
Hundreds of people took to the streets of the capital Libreville to celebrate in the morning following the overnight announcement, which appeared to have been filmed from the presidential palace, according to the television images.
In another statement read on national television, the military officers said they had detained Bongo, who took over in 2009 from his father Omar, who had ruled Gabon since 1967. Opponents say the family has done little to share the state's oil and mining wealth with its 2.3 million people.
If successful, the coup would be the eighth in West and Central Africa since 2020. The latest one, in Niger, was in July. Military officers have also seized power in Mali, Guinea, Burkina Faso and Chad, erasing democratic gains since the 1990s.
The officers, calling themselves The Committee of Transition and the Restoration of Institutions, said Gabon was "undergoing a severe institutional, political, economic, and social crisis", and said the Aug. 26 election was not transparent or credible.
Gunfire had been heard briefly in Libreville after the statement announcing the ousting of Bongo, but the streets were largely calm before celebrations erupted. Later, police officers fanned out to guard major city intersections.
There was no immediate comment from Gabon's government.
Bongo, 64, was last seen in public casting his vote on Saturday. He had appeared in public before the election looking healthier than previous rare and frail television appearances following his stroke in 2019.
French Prime Minister Elisabeth Borne said France, Gabon's former colonial ruler, was following the situation closely.
The coup creates more uncertainty for France's presence in the region. It has about 350 troops stationed in Gabon. French forces were kicked out of Mali and Burkina Faso after coups there, amid a wave of anti-French sentiment, and Niger's coup leaders have also revoked military agreements with France.
China's foreign ministry called for the situation in Gabon to be resolved peacefully and said the personal safety of Bongo, who visited China in April, should be ensured.
Russia's foreign ministry also said it was worried about the situation and hoped for stabilisation.
RESTIVE REGION
Niger and other Sahel countries have been battling Islamist insurgencies that have eroded faith in democratic governments. Gabon, which lies further south on the Atlantic coast, has not faced the same challenges, but a coup would be a further sign of democratic backsliding in the volatile region.
Discontent against the Bongo family's 56-year grip on power had been growing in Gabon, an OPEC member. Violent unrest broke out after Bongo's disputed 2016 election win and there was a foiled coup attempt in 2019, months after the president suffered a stroke abroad, raising doubts about his ability to rule.
"We think the soldiers will want to hang onto power and set up a national dialogue of some sort to draw up a new constitution, while they rid the bureaucracy of (Bongo's) loyalists," Francois Conradie, leading political economist for Oxford Economics, wrote in a note.
Bongo's critics say the family has failed to channel Gabon's oil and other wealth towards development, while about a third of the population lives in poverty.
Gabon produces about 200,000 barrels of oil a day, mainly from depleting fields. International companies include France's TotalEnergies and Anglo-French producer Perenco.
French miner Eramet, which has large manganese operations in Gabon, said it had halted operations.
There had been fears of unrest after the presidential, parliamentary and legislative elections, which saw Bongo seeking a third term against 18 challengers.
His team rejected allegations of fraud.
But a lack of international observers, the suspension of some foreign broadcasts and the authorities' decision to cut internet service and impose a night-time curfew nationwide after the poll raised concerns about the transparency of vote.
The officers said the state institutions they had dissolved included the government, the senate, the national assembly, the constitutional court and the election body.
After the officers' announcement, internet access appeared to be restored for the first time since Saturday's vote. The government had said the web blackout and curfew were necessary to prevent the spread of fake news and to protect public safety.
The Gabonese Election Centre had earlier on Wednesday said Bongo won the election with 64.27% of the vote and his main challenger, Albert Ondo Ossa, had secured 30.77%.
Gabon's dollar-denominated bonds fell as much as 14 cents on Wednesday before recovering around 2 cents of the losses.

#Gabon #Army #Gabon #army #officers #announce #coup #put #president #house #arrest