Business
Flying out of Ahmedabad to cost more from February 1
NEW DELHI: Flying out of Ahmedabad will get more expensive from the next month. The user development fee (UDF) for departing domestic and international passengers — currently at Rs 100 for both — will be Rs 250 (domestic) and Rs 550 (international), respectively, from February 1, 2023, to March 3, 2024. Then from April 1, 2024, to March 31, 2025, this will further rise to Rs 450 (domestic) and Rs 880 (international). And UDF will be Rs 600 (domestic) and Rs 1,190 (international), taxes extra, upto March 31, 2026, according to the aeronautical tariff order issued by the Airports Economic Regulatory Authority (AERA) for the Adani Group-managed Ahmedabad's Sardar Vallabhbhai Patel International Airport (SVPIA) covering the "third control period" from April 1, 2021, to March 31, 2026.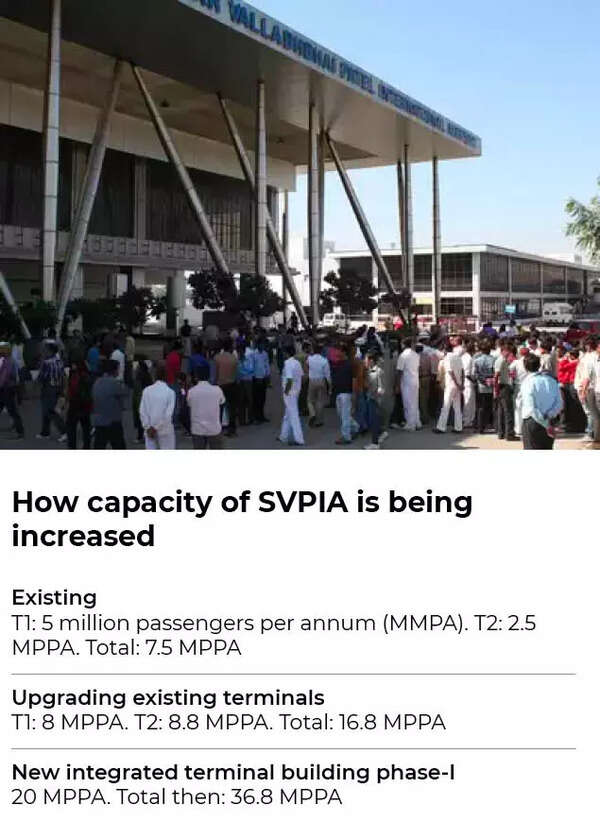 Similarly, aeronautical tariffs like landing and parking charges will be hiked in a graded manner starting next month. So both the components of ticket cost for passengers — UDF that is directly borne by them and airfares decided by airlines by factoring in aeronautical charges — will rise from February 1 in a graded manner. "Revised UDF will be applicable on the tickets issued on or after February 1, 2023," the order says.
AERA has since 2020 been trying to strike a balance between two diametrically opposing requirements — that of airport operators who need funds to augment infrastructure and that of preventing airfares from skyrocketing so as not to adversely affect the recovery in air travel being seen since post-Omicron. The authority has done so while deciding tariffs of various airports where the operators' demand for hike has not been accepted fully. The problem gets acute arises as airport charges at many places, including Ahmedabad, had not been raised for many years during their state-run days which now necessities hikes to implement ambitious upgrade plans. The Adani Group had recently taken over SVPIA.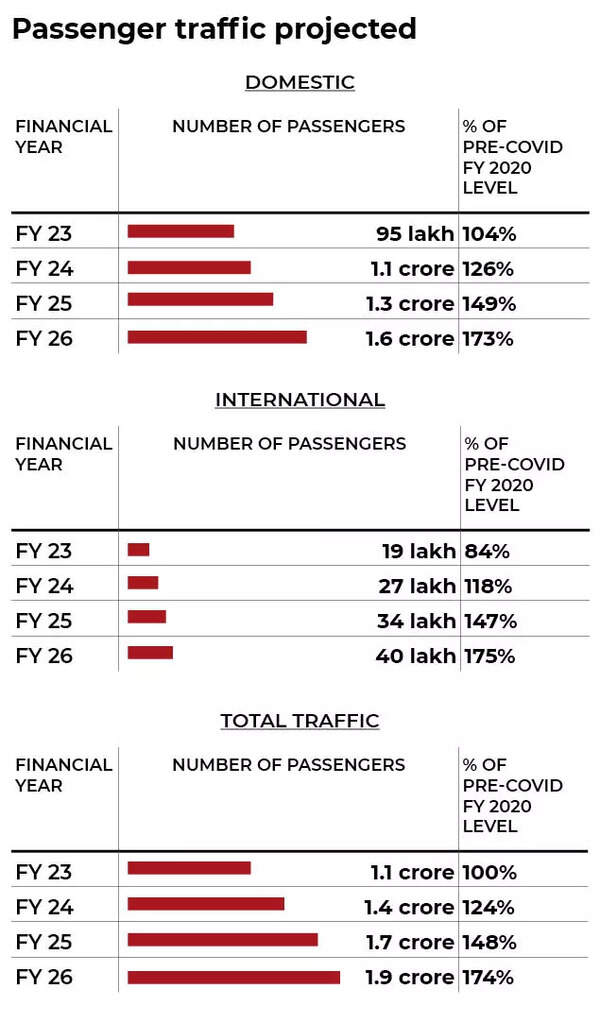 In this case, for instance, Adani-backed Ahmedabad International Airport Ltd (AIAL) had sought raising UDF to Rs 703 and Rs 1,400, per departing domestic and international passenger, respectively, from February 1, 2023, to March 31, 2024. And then taking it to Rs Rs 775 and Rs 1,544 (taxes extra) in FY 26 through annual hikes.
AERA, after considering the submitted tariff card, has issued an order that has moderated the sought hikes as AIAL proposes to incur a capital expenditure of Rs 11,366.4 crore till March 2026 for augmenting infra by expanding existing terminals and building a new integrated terminal building in two phases, runways, taxiways, aircraft parking bays, air traffic control tower, cargo facilities, parking, flight kitchens, MRO and associated facilities.
"The authority (AERA) has decided to increase aeronautical tariffs (landing charges, UDF etc) in a progressive manner, with a view to not burden the airport users, who are already suffering and still recovering from the impact of the Covid-19 pandemic," the order says.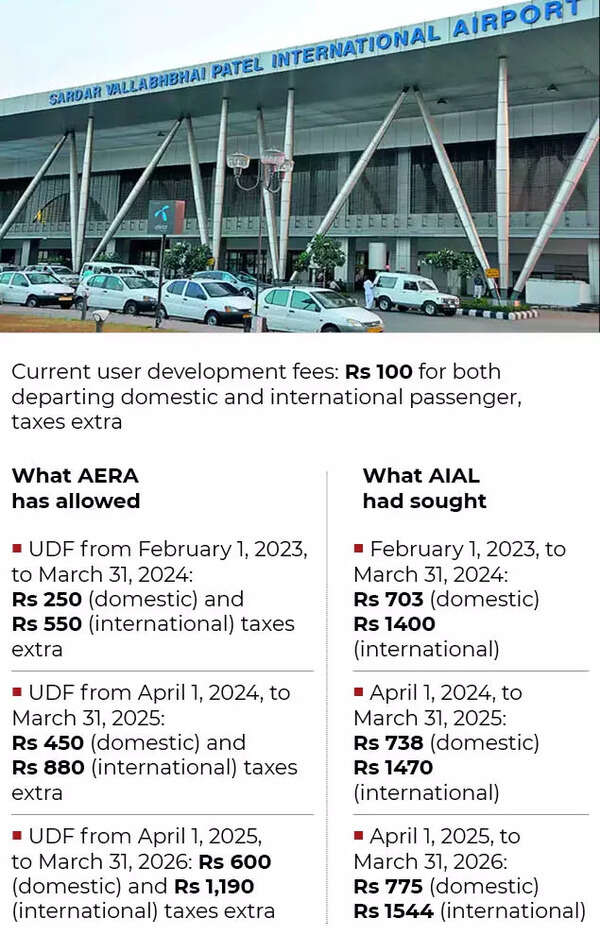 Detailing the expansion plans, the order says: "The existing terminals are currently undergoing refurbishment and expansion. The project is expected to be completed in the current financial year. The passenger handling capacity of the existing terminals (TI and T2) is expected to increase from 7.5 million passenger per annum (MPPA) to 16.8 MPPA post completion of the upgradation/modification works. The airport operator (AO) had also proposed the commissioning of the Phase I of the new integrated terminal building (NITB) towards the end of FY 2026 (with a capacity of 20 MPPA). As a result, the total passenger handling capacity would be enhanced to 36.8 MPPA."
AIAL also proposes to build a multi­ level road for the NITB. The existing ceremonial Lounge at SVPlA will be demolished when phase-2 of the NITB is built and AIAL proposes to build a new VIP terminal as part of the airport's master plan. AERA has approved a variable tariff plan for Ahmedabad Airport under which the operator will be able to give discount to airlines starting new international routes to improve the city's direct global connectivity.

#Flying #Ahmedabad #cost #February