World
Death toll in Ukraine's Dnipro rises to 40 after Russian attack: City official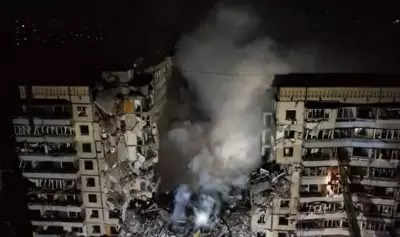 DNIPRO/KYIV: The death toll from a Russian missile strike in the Ukrainian city of Dnipro rose to 40 on Monday with dozens more missing, making it the deadliest civilian incident of Moscow's three-month campaign of hurling missiles at cities far from the front.
Germany's Defence Minister Christine Lambrecht resigned on Monday after remarks over the war criticised as tone deaf, setting the stage for what is expected to be one of the most important weeks in outlining Western military support for Kyiv.
With allies due to meet on Friday at a United States air base in Germany to discuss military aid, Berlin is under intense pressure to allow exports of its Leopard battle tanks, which Ukraine hopes will become the backbone of a new armoured force.
Ukrainian officials acknowledged little hope of finding anyone else alive in the rubble of Saturday's attack in Dnipro, but President Volodymyr Zelenskyy said the rescue in the central Ukrainian city would go on "as long as there is even the slightest chance to save lives".
"Dozens of people were rescued from the rubble, including six children. We are fighting for every person," Zelenskyy said in an overnight televised address.
Moscow denies intentionally targeting civilians in a campaign of air strikes since October that have knocked out power and water in Ukrainian cities, and says the incident in Dnipro was caused by Ukrainian air defences.
Kyiv says it has no way of shooting down the anti-ship missile it says struck an apartment building in Dnipro on Saturday during Russia's latest volley of attacks.
At least 40 people were killed in the attack with 30 still unaccounted for, city official Gennadiy Korban said. He said 75 people were wounded including 14 children.
Tank week
The German government said Chancellor Olaf Scholz had accepted the resignation of Lambrecht and would soon appoint a new defence minister to replace her.
Her exit comes just three days before she was due to host her U.S. counterpart, Defense Secretary Lloyd Austin, and four days before allies gather at Ramstein air base in Germany for the next meeting to coordinate military support for Kyiv.
Lambrecht had been criticised in recent days for tone deafness after an upbeat New Year's Eve message filmed in front of fireworks, in which she spoke of the opportunities she had to meet "interesting, great people" as a result of the Ukraine war.
The coming week is expected to see intense diplomacy to secure additional weapons for Kyiv, with the focus on Germany's reluctance so far to supply tanks or let its allies send them.
France, the United States and Germany have all pledged armoured fighting vehicles this month, but Western countries had so far stopped short of offering main battle tanks. Britain broke that taboo over the weekend by offering a squadron of Challengers.
Moscow has accused the West of escalating the conflict, although Russia also says the supply of tanks would not affect the course of the war. The British tanks "will burn like the rest", Kremlin spokesman Dmitry Peskov said on Monday.
Eastern and central European NATO allies mainly rely on German-built Leopards, seen as the Western tanks most suited to forming the core of a new Ukrainian armoured force. Poland and Finland said last week they would like to send them, but that requires Berlin's permission.
Ukrainian forces recaptured swathes of territory during the second half of 2022. But the front lines have largely been frozen in place for the past two months, despite intense fighting in which both sides are believed to have taken heavy losses. Kyiv says new Western armour would break the stalemate, giving its forces the capability to break through Russian defensive lines.
Moscow claimed to have captured the eastern salt-mining town of Soledar last week, in what would be its biggest battlefield success since last August. Kyiv says it still has some presence in the town and fighting continues.
"Put simply, THE BATTLE CONTINUES," Deputy Defence Minister Hanna Maliar said on the Telegram messaging app. "Everything else is unverified information."
Ukraine's Western allies say the fight for Soledar, with a pre-war population of barely 10,000, is unlikely to have much wider impact, except insofar as the huge losses there could sap manpower both sides need for decisive battles that lie ahead.
Ukraine has been warning that Moscow could be planning a new assault in coming weeks, including from close ally Belarus, which has allowed Russia to use its territory as a staging ground but has so far resisted joining the war directly.
Russia and Belarus began joint military aviation exercises on Monday. Minsk said the drills are defensive and it will not enter the war.
"We're maintaining restraint and patience, keeping our gunpowder dry," said Pavel Muraveyko, first deputy state secretary of Belarusian Security Council, according to a post on the Belarusian defence ministry's Telegram app on Sunday.

#Death #toll #Ukraines #Dnipro #rises #Russian #attack #City #official