Business
China sees 2nd lowest growth in 50 years
China's economy grew at the second slowest pace since the 1970s last year as Covid restrictions hammered activity, though better-than-forecast fourth quarter and December data add to optimism it may be primed for a recovery.
Gross domestic product in the world's second-largest economy grew 3% in 2022, the National Bureau of Statistics said Tuesday, higher than the median estimate of 2.7% in a Bloomberg survey of economists. The government had initially set a growth target of "around 5.5%," although Covid lockdowns and the sudden abandoning of restrictions in December put that GDP goal out of reach.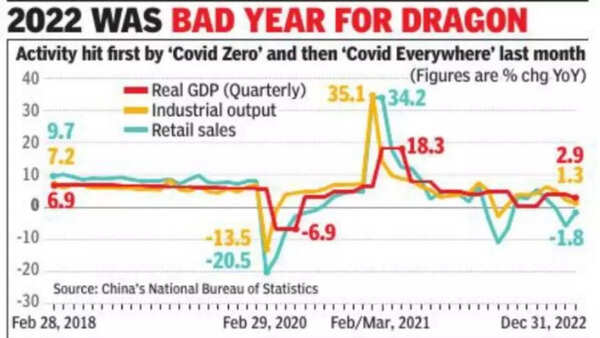 For the final quarter of 2022, the economy expanded 2.9% from a year earlier. Activity was weak in December, though not as bad as economists had feared.
China stuck to its Covid Zero policy for most of 2022, scarring output across the nation from financial centre Shanghai and technology hub Shenzhen to iPhone city Zhengzhou and car manufacturing base Jilin. The policy's rapid dismantling in December caused more economic strain as infections surged, but activity has rebounded in recent weeks where cases have peaked, such as in the capital of Beijing.
Economists are now betting on stronger recovery in coming months as consumer spending picks up and the housing slump eases. The median estimate in a Bloomberg survey of economists is for growth to accelerate to 4.8% this year.

#China #sees #2nd #lowest #growth #years