World
Building collapse in war-damaged Syria city kills 16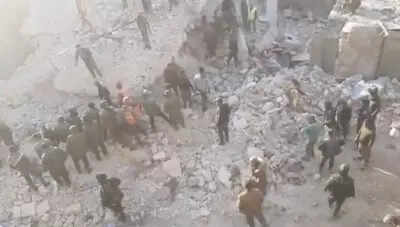 ALEPPO: A building collapsed Sunday in Syria's war-damaged second city of Aleppo, killing 16 people including children, authorities and media reported.
Much of Aleppo was destroyed during Syria's conflict that began nearly 12 years ago and left many of the remaining structures in a decrepit state.
"The number of victims of the residential building collapse… has risen to 16 dead", said state news agency SANA.
Only one person had been rescued alive from the rubble of the five-storey building which was home to seven families, Syria's interior ministry said.
It was not immediately clear if anyone else had survived the tragedy in the city which was Syria's pre-war commercial hub.
Earlier Sunday SANA gave an initial death toll of 10, which rose throughout the day as search operations continued.
A Kurdish news agency said five children were among the dead.
The victims included Syrians who had been displaced during the country's years of fighting, a war monitor said.
Locals told AFP that about 35 people lived in the building.
Video footage shared on state television showed dozens of rescue workers at the site, where some used their bare hands to dig into the grey rubble. Earth movers scooped up the pieces of building material, sending dust into the air.
SANA quoted a police source as saying earlier that the building, in Aleppo's Sheikh Maksoud neighbourhood, had collapsed "due to a water leak" in the foundations.
The neighbourhood is predominantly inhabited by Syrian Kurds who are under the authority of the People's Protection Units (YPG) militia, part of the Kurds' de facto army.
Aleppo itself is, however, under control of the government which took it back from rebels during devastating urban combat.
The British-based Syrian Observatory for Human Rights reported that among the victims were displaced people from Afrin, further north, where neighbouring Turkey carried out an offensive in 2018.
Nearly half-a million people have been killed in Syria's conflict which began in 2011 and displaced about half of the country's pre-war population.
Many of those forced from their homes had to move into buildings that are structurally unsound, resulting in relatively frequent collapses.
Last September, a building collapse in the Ferdaws neighbourhood of Aleppo killed 10 people, including three children.
A war-damaged block of flats also crumbled in the city in February 2019, leaving 11 people dead with four children among them.

#Building #collapse #wardamaged #Syria #city #kills