India
Bombay HC: NIA silent on ex-cop Sharma's link with accused Waze | India News
MUMBAI: Even as it denied bail to retired police officer Pradeep Sharma in the case of planting of explosives in a stationary vehicle near industrialist Mukesh Ambani's bungalow Antilia, the Bombay HC said it's perplexing that the National Investigation Agency has not disclosed 'others' with whom dismissed assistant police inspector and key accused Sachin Waze had conspired.
The explosives were found in an SUV owned by Mansukh Hiren on February 25, 2021. On March 5, 2021, Hiren's body was found by police in a creek near Thane. The NIA has registered a case of murder and submitted a charge sheet against Waze and former 'encounter specialist' Sharma, among others.
The NIA, after questioning by the HC in one of the hearings, said that Waze had conspired with Sharma, but the HC said that this has not come out in the charge sheet. If this was the NIA's case, then why they had not disclosed the same in the chargesheet is perplexing, said the HC.
The court noted that Sharma's role "was only in the killing of Hiren, as alleged by NIA, and not in planting of explosives".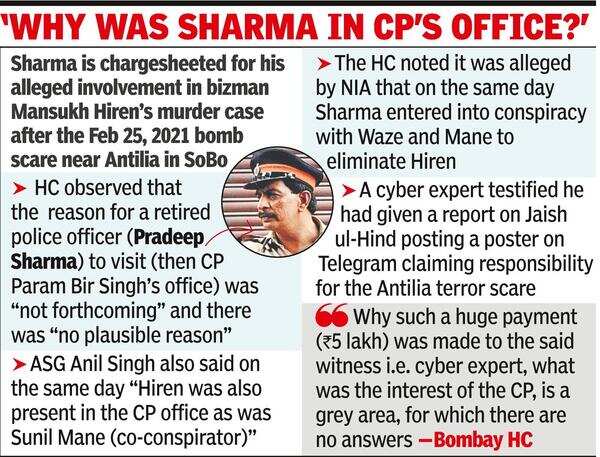 The HC in its order on Monday said, "Sachin Waze could not have done it by himself. There has to be two or more persons to attract the offence of conspiracy. There are several questions which are unanswered by the NIA, with respect to the case pertaining to parking of the vehicle laden with gelatin sticks."
Senior counsel Aabad Ponda for Sharma and Vikram Chaudhry for co-accused said that "for reasons best known, NIA was trying to protect the higher-ups".
The HC also said, "In a case of this magnitude, prima facie, it is highly impossible that Sachin Waze himself would be involved, without the help, assistance or may be, guidance of some others."
Opposing his bail plea, additional solicitor general Anil Singh for the NIA had relied on Call Data Records (CDRs) and argued that Sharma's presence in Vikhroli, a suburb in eastern Mumbai, the day businessman Mansukh Hiren had parked his car at an isolated location on February 17, 2021, and from where the car had allegedly gone missing "cannot be a coincidence". Singh said circumstances on record clearly show that Sharma conspired with Waze to eliminate Hiren.

#Bombay #NIA #silent #excop #Sharmas #link #accused #Waze #India #News