Business
Adani: Adani group shares fall after OCCRP allegations on offshore owners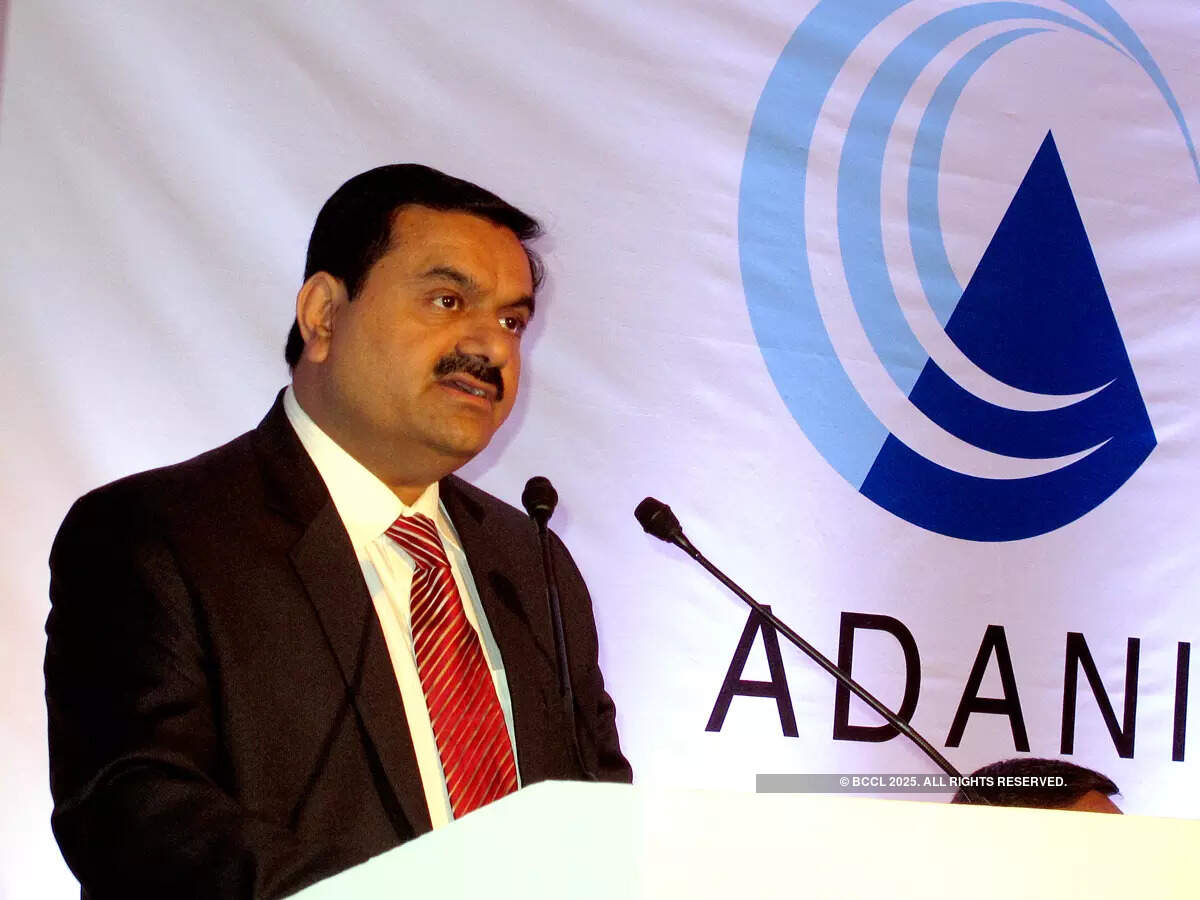 MUMBAI: Adani Group shares and bonds declined after potentially controversial owners of its stock were identified in a new investigation, dealing the Indian conglomerate a fresh blow after short-seller Hindenburg Research in January alleged the group engaged in corporate fraud and stock price manipulation.
All 10 listed Adani stocks retreated in Thursday trading and most of the group's dollar bonds also fell. Shares of flagship Adani Enterprises Ltd dropped as much as 5.2% before paring losses.
Documents obtained by staff at the Organized Crime and Corruption Reporting Project show that Nasser Ali Shaban Ahli from the United Arab Emirates and Chang Chung-Ling from Taiwan spent years trading hundreds of millions of dollars' worth of Adani Group stock, the global network of investigative journalists alleged in a highly-anticipated report.
The two men have longtime business ties to the Adani family and have served as directors and shareholders in Adani Group companies, the OCCRP said on its website — along with firms associated with Vinod Adani, who is the brother of the conglomerate's billionaire founder, Gautam Adani.
The documents were corroborated by people with direct knowledge of the Adani Group's businesses and public records from multiple countries, the OCCRP said, and show how hundreds of millions of dollars were invested in publicly traded Adani stock through opaque investment funds based in Mauritius.
"The documents show that, through the Mauritius funds, they spent years buying and selling Adani stock through offshore structures that obscured their involvement — and made considerable profits in the process," the OCCRP found. "They also show that the management company in charge of their investments paid a Vinod Adani company to advise them in their investments."
'Money trail'
Adani Group said in a statement Thursday that it rejected "these recycled allegations," adding that they were based on decade-old closed cases. "There is no relevance or foundation for these allegations on transfer of funds."
The Financial Times and The Guardian also reported on the documents, which were shared with them by the OCCRP earlier.
The OCCRP investigation is yet another broadside against the ports-to-power conglomerate, which has been firefighting allegations of wide-ranging corporate malfeasance made at the start of the year. The Hindenburg report prompted a probe by Indian regulators and wiped out more than $150 billion in market value from Adani's listed companies at one point.
Adani has also come under political attack, thanks to the perception that the tycoon enjoys a cozy relationship and favoritism with Prime Minister Narendra Modi, dovetailing many of his businesses to the premier's development ambitions. The opposition Congress party renewed its demand for a parliamentary probe.
"The stench of corruption around the network of Adani-linked shell companies located in opaque tax havens is only getting stronger with the money trail being established now," Jairam Ramesh, a Congress leader — wrote on X, the social-media platform formerly known as Twitter. "Despite the Modi government's best efforts, the truth will not stay suppressed forever."
The conglomerate has repeatedly denied any wrong doing, but the allegations have drawn wider scrutiny on corporate governance practices across India's family-dominated business world.
"Corruption and lack of market transparency remains an issue for the country," said Tina Teng, an Auckland-based analyst at CMC Markets. The newsflow may lead to some "negative impact on Indian markets" in terms of concerns over insider trading and market manipulations, she added.
Adani shares have recouped more than $40 billion as the conglomerate's founders pared back debt and raised billions of dollars selling stock to overseas investors including GQG Partners LLC and the Qatar Investment Authority.
The Securities and Exchange Board of India, the country's capital markets watchdog, said a probe into the Adani Group showed violations of rules on disclosures by listed entities and limits on the holdings of offshore funds, Reuters reported Monday, citing sources it didn't identify.
"This news will increase the volatility for investors until Sebi's final findings on its Adani investigation get disclosed," said Sameer Kalra, the Mumbai-based founder of Target Investing. "It's another piece of evidence showing concentration of shareholding from the past, and it creates an overhang for smaller investors even as new large funds like GQG are coming in."

#Adani #Adani #group #shares #fall #OCCRP #allegations #offshore #owners