Entertainment
Aasmaan Bhardwaj: It will be a compliment if Kuttey is compared to my dad's cinema – Exclusive | Hindi Movie News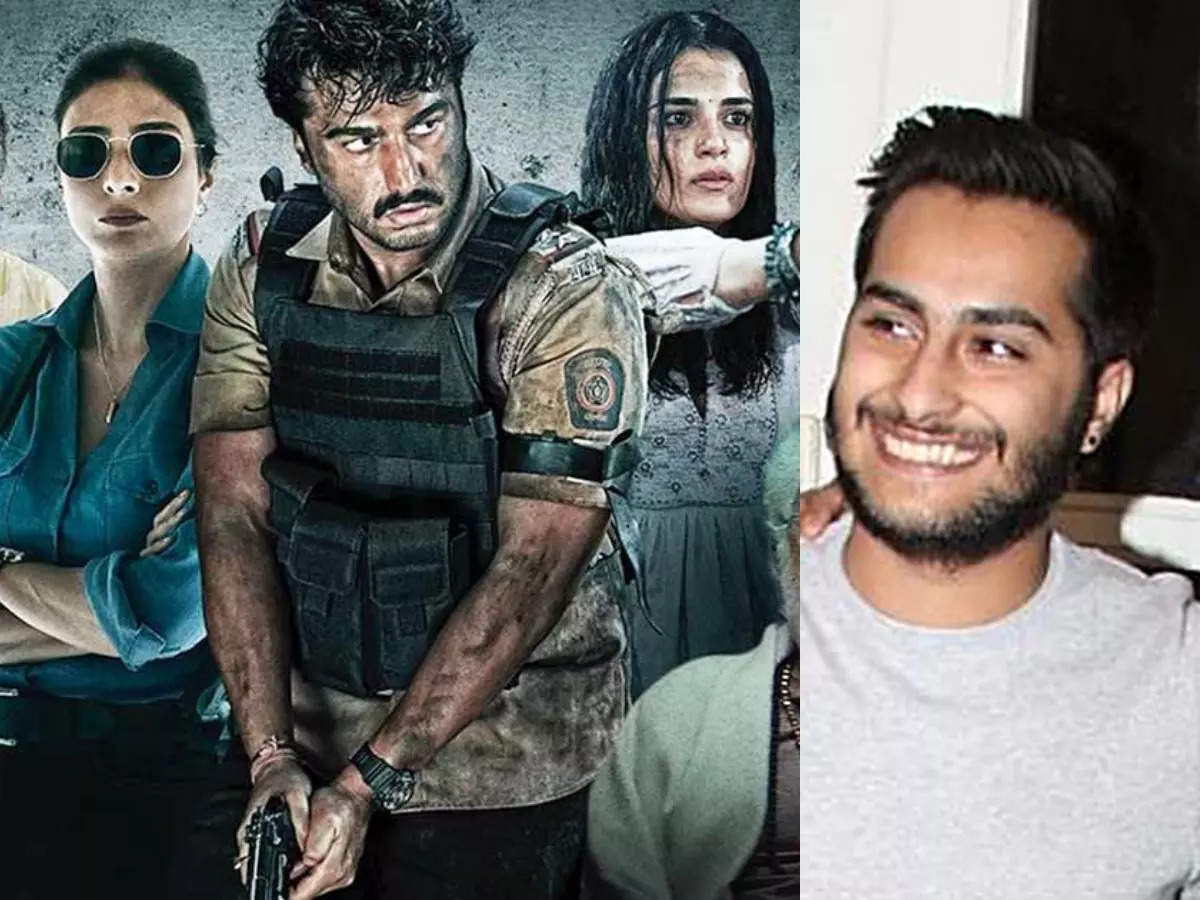 Aasman Bhardwaj is brimming with an understated confidence. It doesn't all stem from the fact that he is Vishal Bhardwaj and Rekha Bhardwaj's son. His reservoir of self assurance comes from the fact that he has clarity of thought and he knows what kind of films he wants to make. His debut film Kuttey releases today and it will be invariably compared to the best of his father's cinema. But young Aasman is raring to receive the feedback and comparisons. In a candid chat, he explains the process and journey of his debut film.
What is the story behind the title Kuttey?
Quentin Tarantino's Reservoir Dogs was one of my reference points for these characters, not for the film or the story. Those are very different. But it was a very big reference point for the characters. This is a very character-driven plot.
When I watched Reservoir Dogs, I wondered why the film was titled Reservoir Dogs. I went and I researched and what I got to read was, the reservoirs – the streams that run and the dogs who come there always fight amongst each other despite the stream being so long.That triggered the thought that the title should be animal related. Because I didn't want to be so on the nose about us humans because we easily get hurt. Nobody bothers when we talk about animals. They might realize it later that it is related to us too. Faiz Ahmed Faiz's nazm 'Galiyon ke aawara bekar kuttey' is there in the film and that nazm was written by him on the common man. When I read that nazm, I decided that this film's title should be Kuttey.
Were there any alternate titles in contention?
There's a song Aawara Dogs in the film so we were thinking of keeping it as the film's title too. But then it was half-Hindi half-English. Then we thought about Dogs as the title too. Phir socha, Dogs hee naam rakhna hai toh Kuttey kyun nahin? And Kuttey also gives a call back to Kaminey (2009). The film is a close cousin of Kaminey.
Every character in Kuttey has grey shades. Why is that?
Yes, because in reality, no one is perfect or white or black. Everyone has grey shades. And my father also explores such characters. White or black characters become so single-tone that I won't enjoy directing nor will you enjoy watching them. Grey is fun to explore.
Those who've seen the trailer and the film have pointed to Vishal Bhardwaj's influence in the film. How do you react to that?
I will have his influence, because I am most influenced by his cinema. I love so many other directors and their cinema, too. But he is the most influential. Because he is the only director whose work I have seen first-hand. I have learned and understood from other filmmakers through just their interviews. I got a chance to know Anurag Kashyap's work up close a little. But dad will be the most influential. I won't be able to and I wouldn't want to remove his influence because it's a compliment to me if my film is compared to dad's cinema.
Vishal Bhardwaj has said that he was not on the sets of Kuttey.
Yes. He came for an hour for the mahurat shot and left. Because he was also shooting Khufiya. Sometimes, he used to be at home when I'd come back from the shoot and would ask how it was going. Kuttey was shot mostly at night. So, I'd come back home in the morning. At that time, he'd be coming back from playing tennis. By evening, he'd receive the footage of what I had shot at night. After watching the footage, he'd give me his feedback. I'd call him every day for the first 7-8 days on whether I was doing it right. He'd tell me, 'Tu sahi kar raha hai. Tension mat le. Kuch galat hua toh main tujhe bata dunga.'
Most of your father's favourite actors are in the film, except Irrfan. Did you miss him?
Yes. I was deeply sad. We lost not just a great actor but a great human being and friend. But Tabu ma'am, Koko ma'am (Konkona Sen Sharma), and Naseer Bhai were always on my list to work with while watching Papa's films. I never thought that I'd get the opportunity to work with even one of them in my first film. But I got to work with all of them.
Did you ever feel intimidated by them?
No. They were comforting. They didn't treat me like a first-time director. They empowered me to be a director. I never had that feeling of 'how do I tell them to perform?' I was never scared. It was an open and communicative collaboration.

You wrote the film keeping Arjun Kapoor in mind. Tell me about that.
I remember when I wrote the story in New York, that time Papa had asked me who do you think should play that part. I told him, "I don't know why but Arjun comes to my mind." And he said the same thing, "I don't know why but I also think of Arjun for this part." I don't know the reason why but I felt that Arjun will fit this role very well.
When I started writing, Sandeep Aur Pinky Farrar was not released. I only knew his performance in Ishaqzaade. Maybe that was in my mind. And when I watched Sandeep Aur Pinky Farrar during the lockdown, I knew that Arjun would suit the character perfectly.

Do you want to explore making different kinds of cinema or will you stick to this genre only?
I want to make what I like. Papa and I have had disagreements over the films that we have liked or disliked. We both have our opinions. I want to make different things. He has already explored all genres. I am greedy to explore different things. I want to explore drama and a love story too.
What will you be making next?
All I know is that I want to make something completely opposite to Kuttey. So, let's see.
At Mehfil-e-Khaas, Vishal revealed that the character played by Tabu was written as a male cop. But Luv Ranjan suggested that it should be a woman. How did that come about?
Yes, the character was almost the same. But it was a male ACP. When Luv bhaiya got associated with the film and I narrated the film to him in Oct-Nov 2020. He said, "I'm doing this for sure. Now, let's go to Mussoorie and celebrate with your parents."
Papa and Mummy go for a walk every day in the evening. I am lazy that way so I don't go. And I got to know that Luv bhaiya is like me too. Luv bhaiya's wife Alisha said, "I'll definitely go for a walk." So, Luv bhaiya said, "All of you go. I have to discuss something with Aasmaan. We will keep chai and pakoras ready when you come back."
So, when we were chatting about casting, only Arjun was confirmed. Naseer Bhai and Koko ma'am were in our minds. We were thinking about whom to cast as the male ACP Paramjit Singh. Then he looked at me and said, "It's a very radical idea, you can say no to it, but why can't we make the ACP female? And we will take Tabu ma'am for it." I said, "Luv bhaiya kya idea diya hai? My dream of working with Tabu ma'am will come true. Let's do this. Let Papa come back, we'll discuss it immediately. We will write it in a day or two so that we can send it to Tabu ma'am."
So, when we shared that idea with Papa, he was like, "Yaar yeh humne kyun nahin socha? Let's do this." So, that's how Luv bhaiya's idea turned Paramjit Singh into Poonam Sandhu.
How did Tabu react?
When she read it she said, "Mera role aur bhi badhao. Issey zyada karwao." I said, "We'll do anything that you want."
What was Arjun like on the sets? Did he get intimidated?
His first 3-4 days on the shoot were action sequences. He has done action before so he was confident. But he'd come to me after a shot and say, "Yaar yeh toh ho gaya. Main unn logon ke saath kaise karne wala hoon?" I told him, "We have done workshops. You know your character. So, just follow the script, baaki apne aap ho jaayega. Don't worry."
I think his first scene after the action sequence was with Tabu ma'am. And he did it very well. I told him that he was doing good. He was jittery on the first few days and would ask me whether he was doing a good job. I told him that if I have okayed the take then you have done what I wanted you to do.
I have inherited this habit from Papa. He never says good job or anything after he okays a take. So, I have seen actors working with him nervously and asking whether they have done well. Papa would tell them, "Jab tak main kuchh nahin keh raha tab tak khush raho. If there's something, I will tell you."
Were there cuts made to the film when CBFC issued an 'A' certificate?
No. Nothing was cut. We had muted cuss words on a couple of occasions where they seemed unnecessary.
How important will Kuttey's box office performance be for you?
Papa always told me to focus on making a good film and nothing else. Numbers are not going to be in your hands so we don't even think about it. He said, "You have seen me. Fridays have always been ruthless to me. So, be prepared for that as well."
And what did Rekha Bhardwaj say?
Mummy told me to do whatever I do with love. And don't ever stop enjoying the process. Because that's what matters.
Music is an integral part of the film. What went into scoring the soundtrack of Kuttey?
I had thought of things musically from the first draft itself. I kept one line description of the kind of songs that would be playing in the background. So, the background score was there from the beginning. Music is an integral part of the film. I used to play some instruments. I will start playing the piano again.
#Aasmaan #Bhardwaj #compliment #Kuttey #compared #dads #cinema #Exclusive #Hindi #Movie #News