India
3 things Rahul Gandhi would do if he becomes PM | India News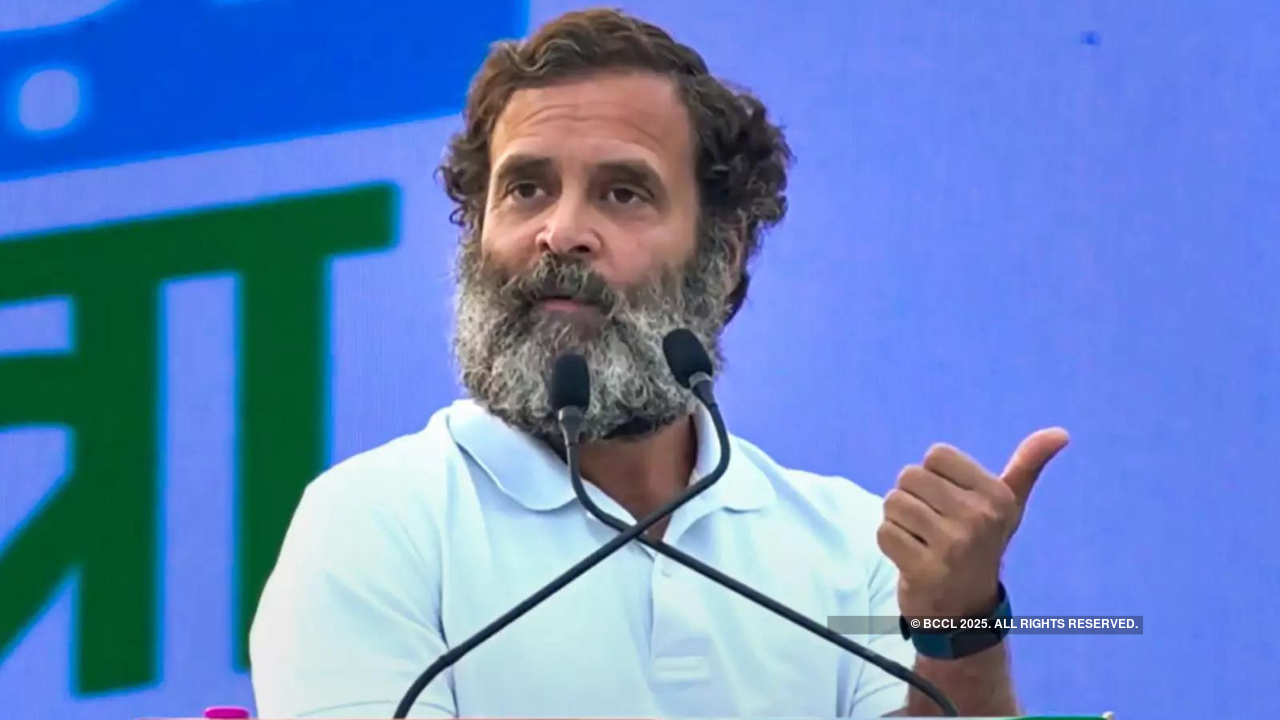 NEW DELHI: Congress leader Rahul Gandhi has said he would focus on three things if and when he becomes the prime minister of India. The three things would be education, economy and protection to the weak and poor. He also said he would marry a woman who is loving and intelligent. On food, he said he likes non-vegetarian food but hates peas and jackfruit.
The Congress MP from Wayanad in Kerala, who is leading the party's Bharat Jodo Yatra, has revealed a number of things related to himself and his family. On Sunday, he posted a video titled 'Fun chat with Kamiya Jani from Curlytales over dinner at our Bharat Jodo Yatra campsite in Rajasthan' which deals with a wide range of topics, largely personal, related to his life.
The interview was recorded at Bandikui under Dausa assembly constituency of Rajasthan on December 18. Jani also posted a short music video on Instagram related to the former Congress president.
Asked about the three things which he would do if and when he became the prime minister of India, Rahul said, "I would transform the education system. I would help people doing production who might have small businesses who might be struggling and I would help them scale those businesses and make them big – five, 10, 15 people who run them and they pretty much control the whole structure."
He said India needs lots of small businesses transforming into larger businesses because unemployment is the real problem which the country is facing. "And with the type of concentration of wealth that we have, you're not going to solve that problem."
Talking about the third thing which he would do as the PM, Rahul said, "I would protect the people who are having a rough time – farmers, labourers and youngsters who are unemployed. So I would make sure that they feel they have protection in this country. So the way I think about it is they should feel they have protection and they should be able to expand their imagination to do whatever they want. And I think that's the job of a nation."
He said the job of a nation is to make sure that one feels protected. "And then to make sure that once you are protected, that if you want to be a journalist writing about food, the nation helps you, helps you do that in a most productive way," he said.
Marriage plans

Asked whether he was planning to get married anytime soon, Rahul said, "When the right girl comes along, I'll get married."
When asked whether he was looking for the right girl, he said, "If she comes along, she comes along. So, yeah. It will be good."
He said he had nothing against marriage as an idea. "I think a part of the problem is my parents had a really lovely marriage. They were completely in love with each other. So my bar is very high," he said.
About the checklist, he said the woman should be a loving person who is intelligent and human.
Jani said, "I think all the girls out there are getting the message."
Rahul replied, "Okay, you are getting me in trouble now."
Beard
Rahul's long, flowing, pepper and salt beard has become a topic of discussion on social media. Talking about it, he said, "I just felt that I shouldn't shave my beard or cut my hair on the yatra. It's nice. It's a bit big now. It's getting bigger. It makes life a little complicated when you are eating. I didn't realise that, but it does."
Throwing a hint that he will shave the beard or cut it short, he said, "It will change. So, it's okay."
However, there was a lot of pressure on him to cut the beard from party leaders. But Rahul did not yield to that pressure.
Food
Talking about his food habits, Rahul said he eats whatever he gets. "I don't have any big preferences. I don't like peas and jackfruit. If I have to eat it, I'll eat it but I don't like it. At home, I'm strict. Here, whatever happens, I do."
He felt that Telangana was a little bit spicy for him. "So the chillies were over the top. There I struggled. I don't eat that much chillies," he said.
About the food normally cooked at his home, he said, "Desi khana for lunch. And for dinner, some sort of continental stuff. But I'm quite particular. I don't have a sort of controlled diet so it's quite boring… I try to avoid too many sweet things and stuff like that. I sometimes eat one or two ice-creams."
While eating chicken tikka, he said, "I tend to be non-vegetarian. And mostly chicken, mutton and seafood."
Talking about his favourite hangouts in Delhi, he said earlier he used to go to Old Delhi. "But generally now my staple is Moti Mahal. It is where I go. And then there is Sagar, Swagath and sometimes Saravana Bhavan."
He said he did not prefer either rice or roti. The reason, he said, "I don't eat much carbohydrate. So I avoid both. But if I have a choice and I'm forced – if you say okay, you have to eat one – it would probably be roti."
On beverages, he said he has coffee in the morning. "And if I am drinking it, then tea in the evening. But normally I just drink one cup of coffee in the morning."
Specifying his three favourite food dishes, he said he likes tandoori food. "So I like chicken tikka, I like seekh kebab. I like a good omelette."
Family roots

Talking about his family roots, the Congress leader said he was born in a family who were Kashmiri Pandits and who moved to Uttar Pradesh. "Our family was from Kashmir but they moved to Allahabad. Grandfather – Papa's papa – was a Parsi. So I'm complete mixed," he said.
Education
Talking in detail about his education, Rahul said he did home-schooling even before Indira Gandhi was assassinated on October 31, 1984. He said, "Because security people said I can't go to school. It was a shock actually because I was into boarding school. I was in a boarding school. But was shifted from there before my grand-mother's death. After her death, they didn't allow us to go to school."
Whether he got any special treatment in school, Rahul said it was a "balanced" treatment. "I had a very interesting thing. I had some teachers who were overly nice to me. And then I had some teachers who were really nasty to me. So I had both worlds."
He alleged that some teachers acted nasty with him because his family had taken a pro-poor position. "I don't think it was so much the family. It was more sort of the political position that my family used to take, which was quite a pro-poor position. So, a lot of people who were teachers, I don't think they appreciated that. They used to be quite nasty to me. But then there were others who sort of were nice. So it was a balance. I used to get both."
Rahul said he was at St Stephen's College for a year and there he studied history.
He said, "And then the same problem came when Papa (former prime minister Rajiv Gandhi) died. So there was a security issue. Then I went to a college in America in Florida called Rollins College. There I studied international relations and economics. And after that I did my masters in Cambridge University in England in development economics. It's actually called masters in philosophy but in economics."
However, Rahul had a completely different experience in college. "And as I was saying to you when I was in school, some of the teachers were nice, some were nasty. There I got a neutral, completely neutral sort of view which was very important for me. So I liked it – both Cambridge University and Harvard are excellent institutions."
Hobbies
Jani talked about Rahul's swimming in Kerala and jumping into the waters. She asked whether he is also a scuba diving expert and a trainer. He replied, "When I was in Florida, I used to teach it. I mean, as a hobby. And then, yeah I do dive. I know how to dive. And I also do something called free diving, which is diving, breath-holding without scuba gear."
Talking about martial arts, he said he has a black belt in Aikido. "I used to box in college. And then I've always done some sort of physical exercise. Martial arts are very convenient. Most people don't understand them. They are not actually designed to be violent at all. In fact they are quite the opposite of that. Often they are also taught wrong. Often they are taught to hurt people and to attack people. So if you understand them and you are taught correctly, it works quite nicely."
He said it might sound crazy but he does martial arts class even on the yatra these days.
Job

Rahul said he did his first job in London. It was for the Monitor Company, which is a strategic consulting company.
He said he remembers the first pay cheque he had received. "At that time it was like a lot. Actually, it felt strange. I was living there so probably it went in rent and stuff like that. It was a big amount. At that time I think it was almost 3,000 pounds or 2,500 pounds, which was a lot of money. At the age of 20-24 or 25 may be. Proper regular corporate job, going to the office."
Entering politics

Regarding his entry in politics, Rahul said, "I come from a family where we are very political people. We discuss that. Our family has always been political. When we were small, the conversation with Dadi (grandmother and former prime minister Indira Gandhi) and Papa on the dining table was, you know, about India, politics and everything that's going on. So it was just what we grew up doing."
He said the death of Indira Gandhi and Rajiv Gandhi's death also had an impact on his joining politics. "That was certainly part of the reason why I felt I should join politics then. It changed after that."
Asked whether he thought not to join politics out of a sense of fear after losing his closed ones, he said, "No, in our family we don't get scared. That's a trait I saw in my grandmother and in my father. So that's not even a question."
Three words he says when he is angry

The Nehru-Gandhi scion said he actually goes quiet when he is angry. "I have got a technique that I use. I use it with my mother and my sister, and people I am close to. Whenever I have an argument with them, I just send them a message. Like my mother, if I have an argument with her, I'll just send a message saying look Mom, you're my mother. I love you very much. And you're right."
He further said, "If you love somebody, it's not really worth having a fight with them about it. You know, you can always later go and fix it or you can say okay fine, I'll back down. So I do that. My mother says that you don't actually mean it. But it disarms her. She can't say anything after that. She is suspicious. Sometimes she says, you just sent this to me like that. I said no Mon, you are my mother, you gave birth to me. And I owe you a lot. So I am not going to get into it."
Relations with Priyanka Gandhi Vadra
Rahul said his younger sister Priyanka Gandhi Vadra was not pampered because she was the youngest in the family. "Different people pamper different kids. My grandmother used to pamper me. My father used to pamper her. My mother used to pamper me. I think the women pamper me and the men pamper her."
Asked whether he used to bully her, he said. "We used to fight big time. We used to get into serious fights because we grew up with a whole bunch of violence around us. So I guess a lot of that was internally sort of causing stress and stuff. So we used to fight a lot. After Papa died, we just stopped."
Even now the two have an argument but it is nothing major, he said.
Three things by Rahul Gandhi's bedside
Rahul was asked about the three things which he keeps by his bedside. He replied, "There is a drawer there which has my passport and some other ID in it, some religious little rudraksha and a couple of images are there – of Buddha and Shiva and stuff. And then my wallet and my phone. I keep my phone away at night. In the day you have to use it."
About spending time on social media, he said, "Not much. I don't really watch or go on social media much. I mean most of my phone work is WhatsApp, telling somebody to do this, think about that. And then I have a couple of younger people who I sort of advice and guide. You should think about things. And a lot of it is political stuff. But I don't like sit there and on Instagram or Facebook and things like that "
Favourite PM till date
Asked who is his most favourite PM, said, "I don't see it like that. I mean, of course, Indira Gandhi was my grandmother. And Rajiv Gandhi was my father. I love them. And they would be my favourites. I think different people do different things that are powerful."
Spirituality, religion and meditation
Rahul also talked in detail about spirituality and meditation. He said his idea of spirituality is truth. "In my view there is only one spirituality which is that you have the guts to face your life with honesty; and you are nice to people. You listen to people. You understand people. You are affectionate to them. You're not nasty to them. That's my religion."
Asked whether he meditates, he said he does meditate but he does not sit and meditate. "I do it in the middle of the day when I'm walking sometimes. But I used to go. I haven't been for some years. But I used to go for 15 to 20 days to meditate."
Rahul was also asked whether he questions himself and the answer he gets. He said, "The day I get the answer, I'll be a fool. If I suddenly decide I've got the answer, then I'm a fool."
The Congress leader said life is much more complicated. Life is very dynamic. Life changes. "So if there is somebody who thinks he has got the answer, that's not correct. You never have the answer. You always have the questions and you have the right questions or the wrong questions. But I don't think you arrive at a place where you say I have the answer. That's just calling yourself God. And that's arrogance… I live my life and I try to be fearless. I try to be nice. I try to be gentle with people."
Travel

On his liking for travel, he said he travels solo without security. "All the time. I like it. Recently not much but all the time I used to do it. I've bag-packed a lot when I was younger in Burma and in Europe. I've cycled across Spain and Italy. I have done a lot of that."
Rahul said he does not have any favourite destination in the world. "No such thing. I just like to go to new places and see them. So, like I don't have a favourite colour."

#Rahul #Gandhi #India #News